FOSTERING DIGITAL CITIZENSHIP IN THE CLASSROOM
We live in a digital world! Technology is increasingly becoming embedded into many aspects of our lives. Our students are digital natives, meaning they have only known a world with technology. As educators, we teach our students life skills- how to be compassionate, how to be organized, etc. One of the life skills our students need is digital citizenship- how to be a conscientious digital citizen in our world today.
Guess what? You don't need to frequently use technology in your classroom to start talking about digital citizenship with your students! There are many great resources out there to start the conversation on digital citizenship that are tech-free.
Here are five themes of digital citizenship to help you begin the conversation about digital citizenship with your students.
CYBERBULLYING & RELATIONSHIPS
Cyberbullying is a serious issue, and combating it begins with educating our students about ways to show kindness online, how to cultivate empathy and compassion, and the importance of being an upstander. Sometimes people act differently because they are behind a screen and may have a screen name that helps hide their identity. It's important for students to understand that just because it may seem like you are anonymous online, it is still important to treat everyone with kindness and compassion.
Discuss with your students what it means to be a bystander versus an upstander, how students can help create positive communities online, and what to do if they encounter negative stuff online.
DIGITAL FOOTPRINTS 
Have you ever Googled yourself? What you find when you Google yourself is your digital footprint. It is important for our students to learn from a young age that their online activity is permanent, not temporary, and it's important to think about what "electronic breadcrumbs" you want left behind when you use the internet.
Start the conversation with your students today about how sharing information online can affect themselves and others and that what we share online is a permanent part of our digital footprint.
MEDIA BALANCE
Most likely, your students use at least one device daily, whether that is at home or school. A key theme of digital citizenship is to help your students learn from a young age when is an appropriate time to use technology and when to take a break! Students as young as kindergarten can begin to learn about screen time and its effect on mental health. The key is balance.
Help your students learn to reflect on how much media they consume on a daily basis and how it affects their lives and relationships.
MEDIA LITERACY
How often do your students use online resources when researching? Media literacy is the process of teaching students to think critically and how to find credible and trustworthy sources. It also involves giving proper credit when using sources in research projects, etc.
Start the conversation with your students today about the importance of giving credit for other people's work and how to identify credible sources when researching.
PRIVACY
It is essential that students learn from a young age how to protect their personal information online and what their data privacy rights are. When teaching students about online privacy, it is helpful to begin with what information is private and what information is personal. For example, private information, such as home address and date of birth should never be shared without parental permission, but personal information such as your favorite music or your favorite food is okay to share. Students can also learn the importance of and how to create a strong password. Common Sense Education has a great lesson plan on creating strong passwords called Password Power-Up. While it is created for students in grade 3, it is a great lesson for both older and younger kids.
Have a conversation with your students about what privacy is and how to protect your information online. Discuss the difference between personal and private information and how to be cautious when sharing information about yourself online.
HOW TO INCORPORATE DIGITAL CITIZENSHIP IN YOUR CLASSROOM
Digital citizenship does NOT need to be an isolated subject that you need to incorporate into your day. In fact, embedding digital citizenship throughout your day is more effective! Think about it this way- we are not digital citizens in a vacuum. We need to be able to access our digital citizenship toolbox at various times.
Here are some quick ideas to incorporate digital citizenship in your classroom:
Talk about media balance during your morning meeting. Ask your students, when was a moment you put down your device and did something that was tech free?
The next time your students use a program on a computer that requires a login, talk about how to create a strong password.
Do you have a dedicated SEL time? Embed the topic of cyberbullying and how kindness extends online.
Choose a digital citizenship theme for the month and focus on that theme in your classroom. Share the theme with parents so they can discuss it at home with their children.
Use a lesson plan from Common Sense Education for a 30-45 minute focused digital citizenship lesson.
Assign a digital citizenship game from Common Sense Education or Be Internet Awesome as an early finishers activity or a homework activity.
DIGITAL CITIZENSHIP RESOURCES
There are several well-known, research-based resources for digital citizenship that are free for educators.
Common Sense Education is the leading resource for educators on digital citizenship. Their K-12 lesson plans are free for educators, and most can be used in your classroom without technology! Their lesson plans center around six main themes: media balance and well-being; privacy and security; digital footprint and identity; relationships and communication; cyberbullying, digital drama, and hate speech; and news and media literacy. Grades K-1 have three lesson plans, and grades 2-12 have six lesson plans. Common Sense Education also has three interactive online games: Digital Passport™ for grades 3-5, Digital Compass™ for grades 6-8, and Social Media TestDrive for grades 6-8. Common Sense Education also provides a wealth of information for parents, including a family activity, family tips, and family engagement resources for each lesson.
ISTE, the International Society for Technology in Education, has some wonderful resources for educators on digital citizenship. Digital Citizenship is one of the ISTE standards for students. They provide articles, books, videos, posters, and more to help educators bring digital citizenship to the classroom in meaningful ways. If you are particularly interested in the topic of digital citizenship, ISTE offers several courses for educators on this topic.
Google's Digital Citizenship program, Be Internet Awesome, is designed for students in grades 2-6. You can download the curriculum for free, and it also includes an interactive game for students called Interland that makes learning about digital safety and citizenship interactive and fun.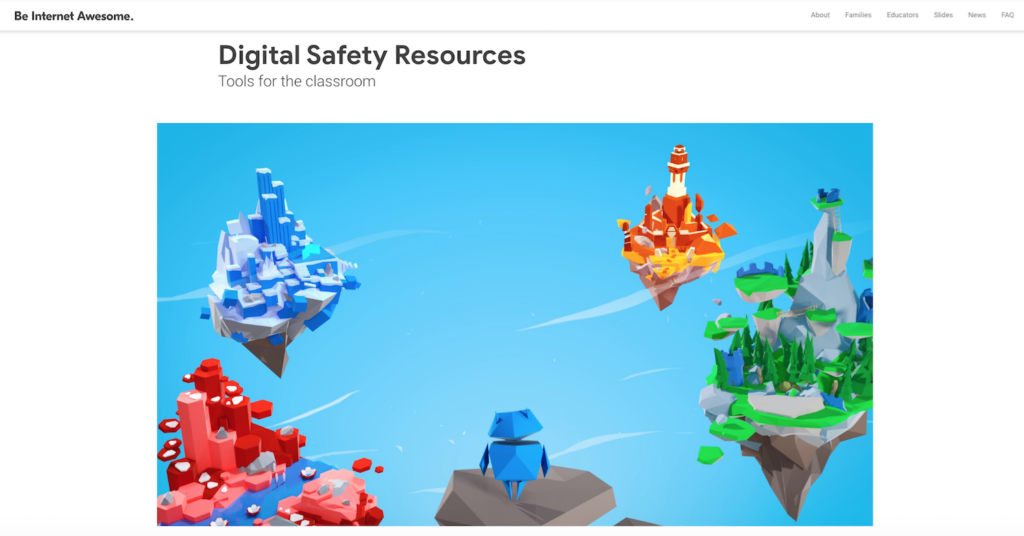 Digital citizenship is a very important topic for our students today. What is one small way you can start the discussion in your classroom about being a good digital citizen?
Source: TEACH CREATE MOTIVATE