3 AREAS TO SYSTEMIZE FOR EFFECTIVE CLASSROOM MANAGEMENT
Systemizing morning routines, student expectations, and transitions can really impact your day! Do you spend so much extra time in your day answering questions, correcting behavior, and repeating directions again and again? By focusing your attention on these three areas, you'll be spending your time teaching instead!
1. MORNING ROUTINES
Establishing a morning routine is key to effective classroom management! When your students know exactly what to expect and what to do, the morning runs so much smoother! A morning routine creates a student-led environment that your students will thrive in.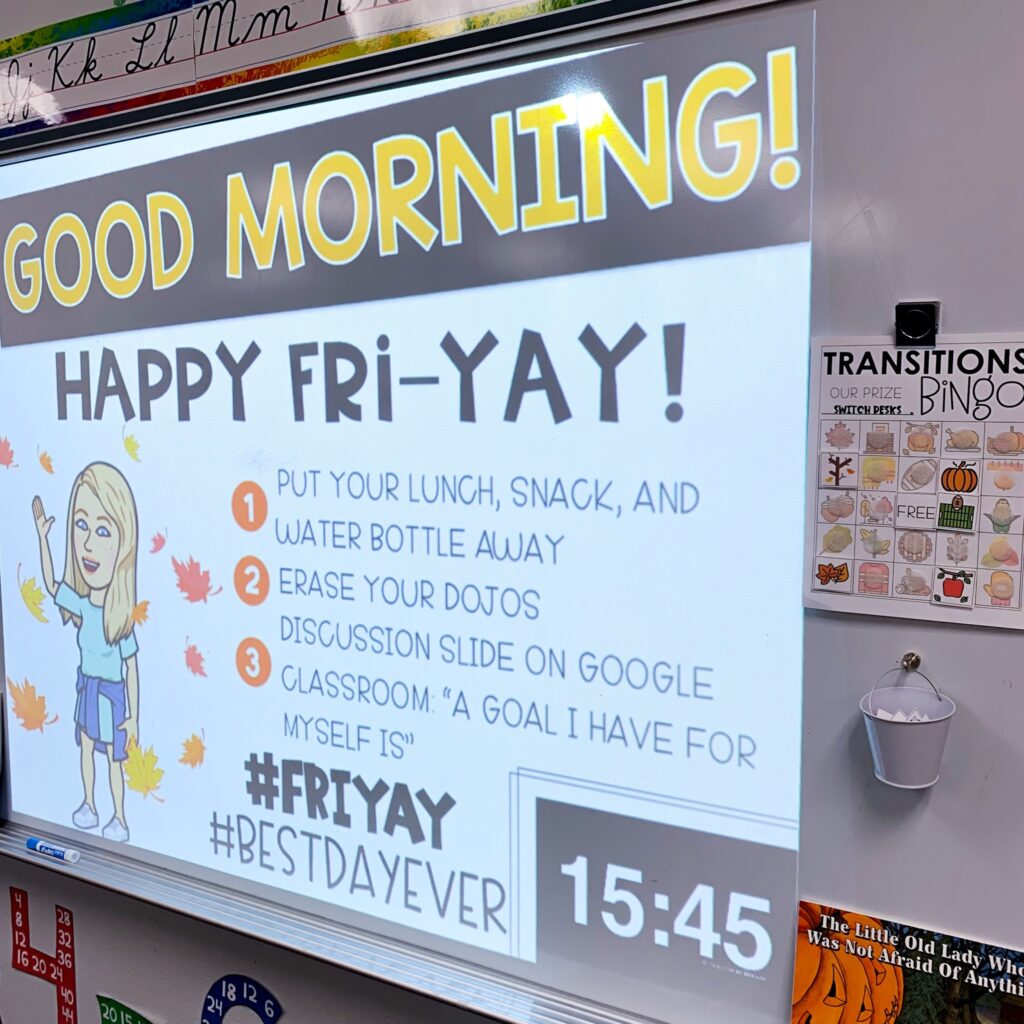 One thing that is always a part of my morning routine is a morning slide with a timer on the board with expectations and instructions to start the day. Keeping the content of the slides as consistent as possible sets students up for success because they know exactly what to expect as soon as they walk through the door.
Be sure to include things like where to put their:
lunch/snack
homework
important papers (notes from home, permission slips, etc.)
Backpack/supplies
Anything that students need to store or do should be part of the morning slide. This will save you time answering questions and allow you to greet your students and prepare for the day!
The thing that changes on the slide from day to day is the morning work. Everything else stays the same!  Having a theme for each day of the week is a way to establish consistency with morning work. Students know what to do when they come in and what to start working on right away. Here is an example of a morning work schedule:
Monday: Agenda Slides-Weekly agenda projected and students copy it down
Tuesday: Math Facts/Read a book or on Epic
Writing Wednesday: Writing Prompts
Thursday: Discussion Slides-Students add to the discussion on slides or Jamboard & discuss in morning meeting
Fun Friday: Student's Choice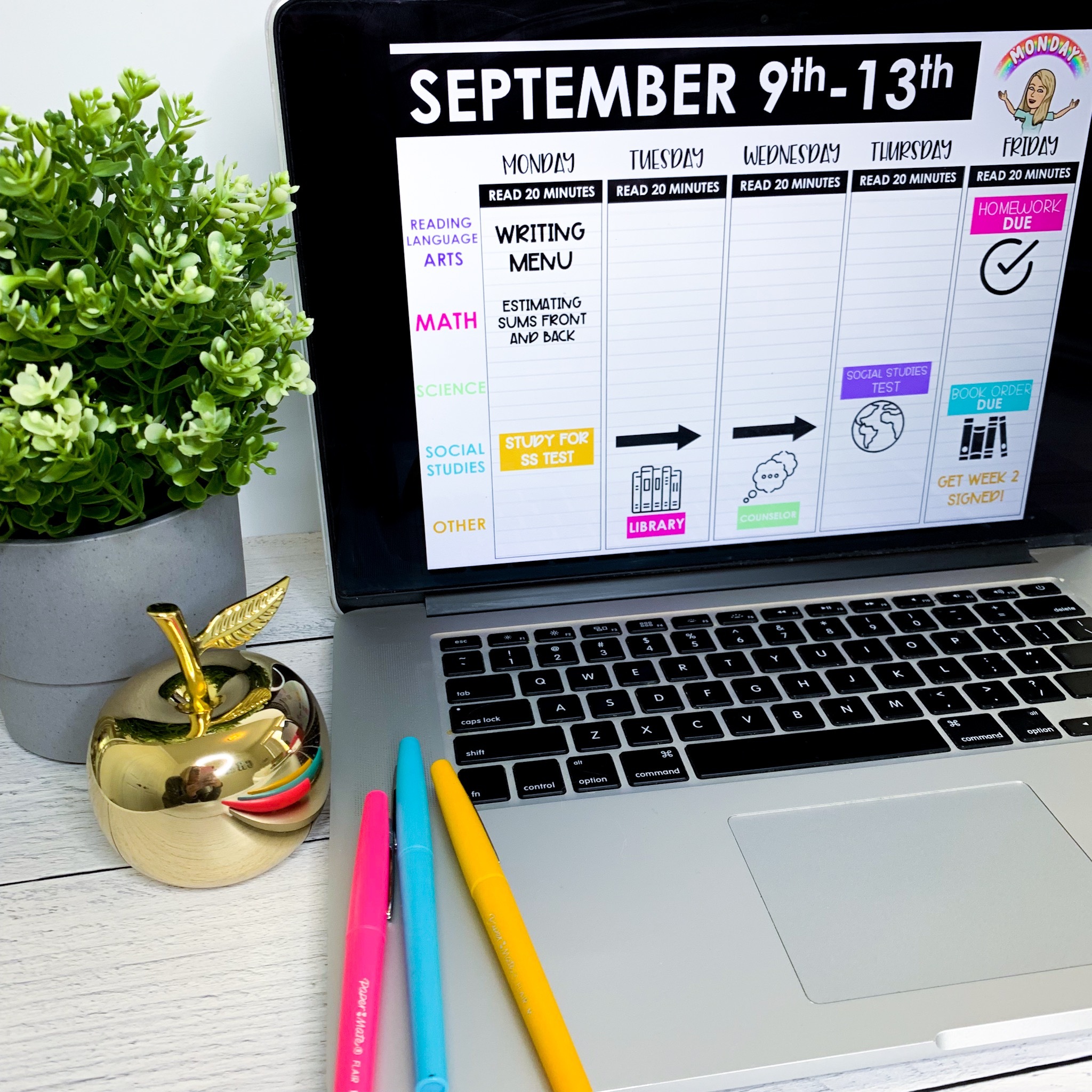 Morning Meeting
Morning meeting is one of the BEST parts of the day! This is a time where classroom communities really grow and is an opportunity to build important relationships with your students. Consistent routines help your students set routines that impact classroom management. This also helps transitions and minimize student chatter from activity to activity.
Holding a morning meeting every day is one of the best ways to include social-emotional learning into your day! One of my favorite ways to incorporate SEL is by discussing character traits. Student buy-in is HUGE when it comes to effective classroom management. Fostering positive character can make all the difference in your classroom community!
For more ideas on what to incorporate into your morning routine, check out 6 Tips for Your Classroom Morning Routine!
2. EXPECTATIONS
Students will meet the bar you set in your classroom. Establishing high expectations for your students is so important! In fact, students thrive in a structured environment where they can learn successfully.
There are three areas that I really focus on setting high expectations for students.
Independent Work
Partner Work
Student Work
One thing that sets students up for success and holds them accountable is putting expectations and directions on a slide. Students always have something to refer to, which helps so much when they get instructions verbally AND visually. Here are some ideas on what to include:
Voice level
Simple step-by-step instructions
Participation expectations
Time (class slides with timers already has this built-in)
What to do when they finish
Where to turn things in
Each of these expectations may look different for each area. For example, independent work may always have an expectation of a voice level zero. An expectation for partner work could be each team member is equally participating. Student work may be working at a voice level 1 (whisper) and asking a classmate for help when needed. All of these expectations are clearly on the slide; all you have to do is point if they need a reminder!
3. TRANSITIONS
Practice, practice, practice is the key to transitions! The goal is to have quick, quiet, and efficient transitions, but this takes some consistent time and effort on your part. The pay-off is so worth it in the end so stick to it! Not only do quick transitions save learning time, but they also help foster a calming classroom environment.
Start by discussing what a transition looks like and sounds like. I like to say, "transition quickly, quietly, and efficiently." Discuss what that means and WHY with students. Without including them, students won't have as much buy-in to classroom routines.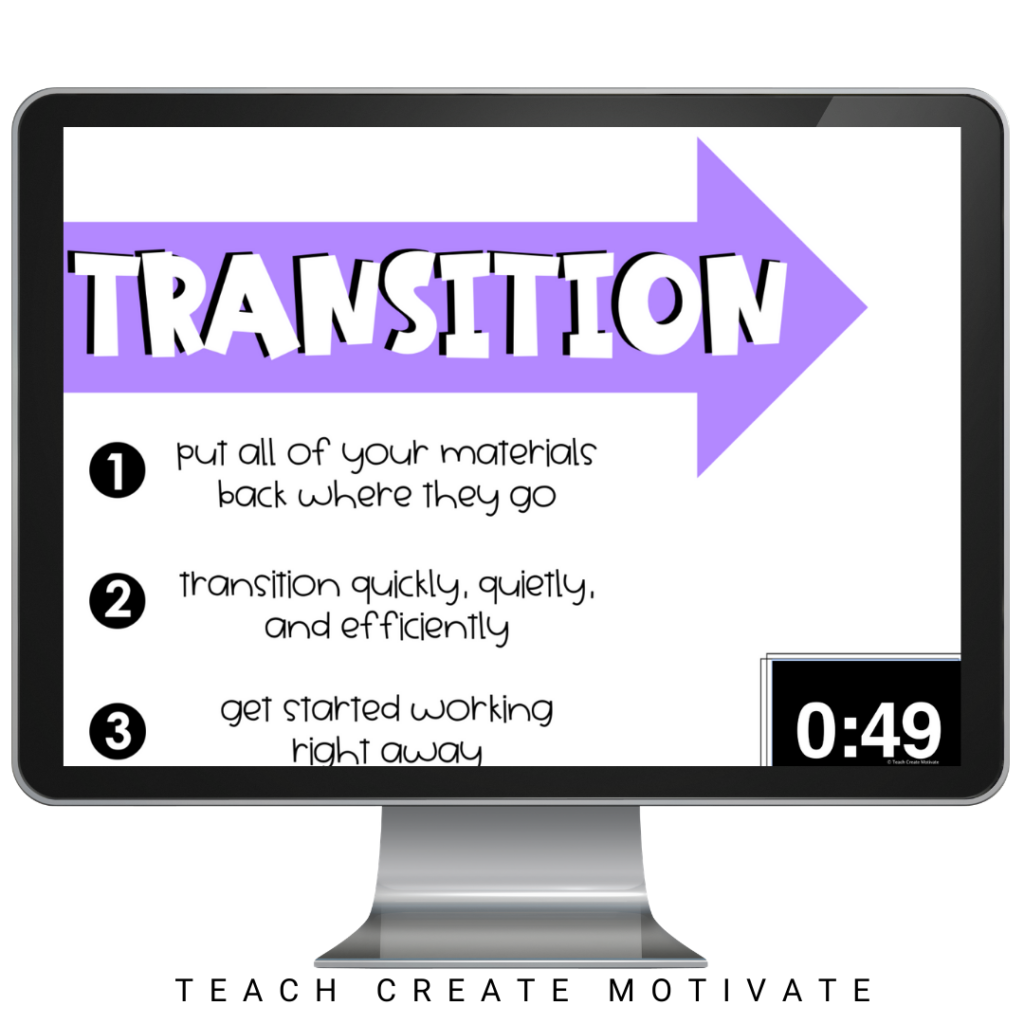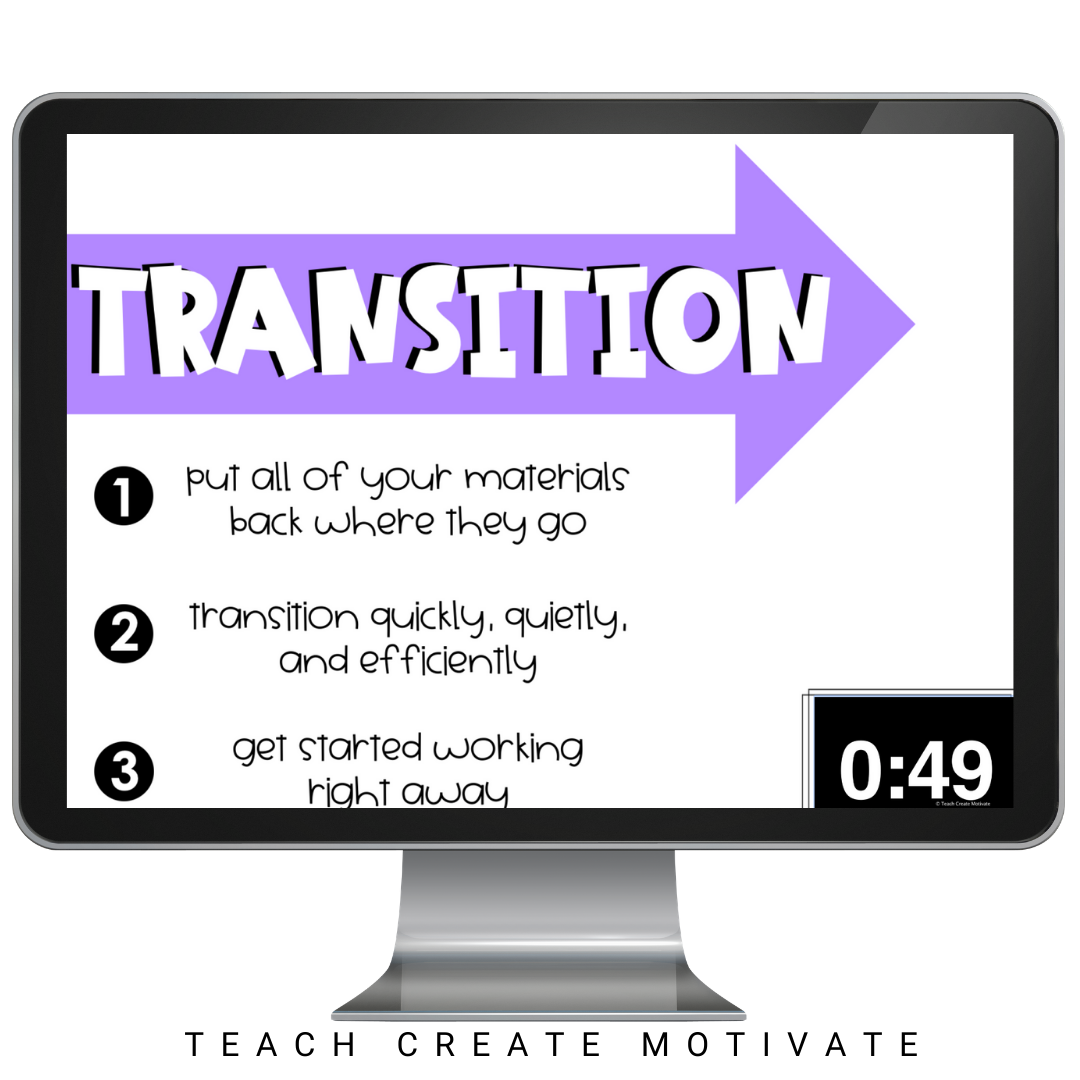 Now it is time to practice, practice, practice! One way to practice is to set goals with time. Decide on a reward if they accomplish the task in the time set. See if your students can execute the transition in under 3 minutes. I like to use Transition Bingo. If they transition quickly, quietly, and efficiently, they earn a piece. Once they have mastered three minutes, try two and then one.
Another way to practice is to use a slide and time them! Put your expectations on the slide. This should include what the transition should LOOK like and what it should SOUND like are the two things I like to keep in mind while setting expectations for transitions. Simple step directions and expectations are key! Model it for your students first, then see if they can beat the timer!
Systemizing these important aspects of your day can have a HUGE impact on student behavior. It minimizes questions, student chatter as they wait for instructions and gives ownership to complete classwork!
Source: TEACH CREATE MOTIVATE